First let me apologize for not doing a giveaway in about a month. Things have been a little hectic around here! I'm still trying to learn the ins and outs of running a business and being a stay at home mom. So thanks for being patient with me, and thanks for your continued support with
www.DressupJane.com
!
Anyways, I thought for this giveaway I would do something fun and share my three great loves (besides my husband and children): Organization, Kate Spade & Target! Every year after Christmas (usually on our flight home) I become desperate to start organizing for the new year. I love day planners, I can literally spend
hours
days looking for the perfect one online and really I just can't do the Google calendar. I am a paper-and-pen kind of girl. As for Target do I really need to say anything. It's a running joke in our house that my husband's employer should just sign a portion of his paycheck over to Target each month. It would save a ton of time!
So if you are this week's lucky winner, here is what you will receive:
1. Authentic Kate Spade Planner (none of this Canal St. business)
2. A $10.00 Gift Card to Target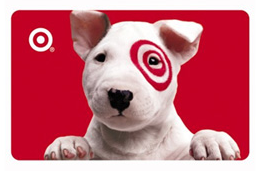 Good Luck! Entry form is below!